We invite you to join in a 3 week fast from 6th-26th January 2020



Please click here for the Daniel Fast 2020 Touch Points.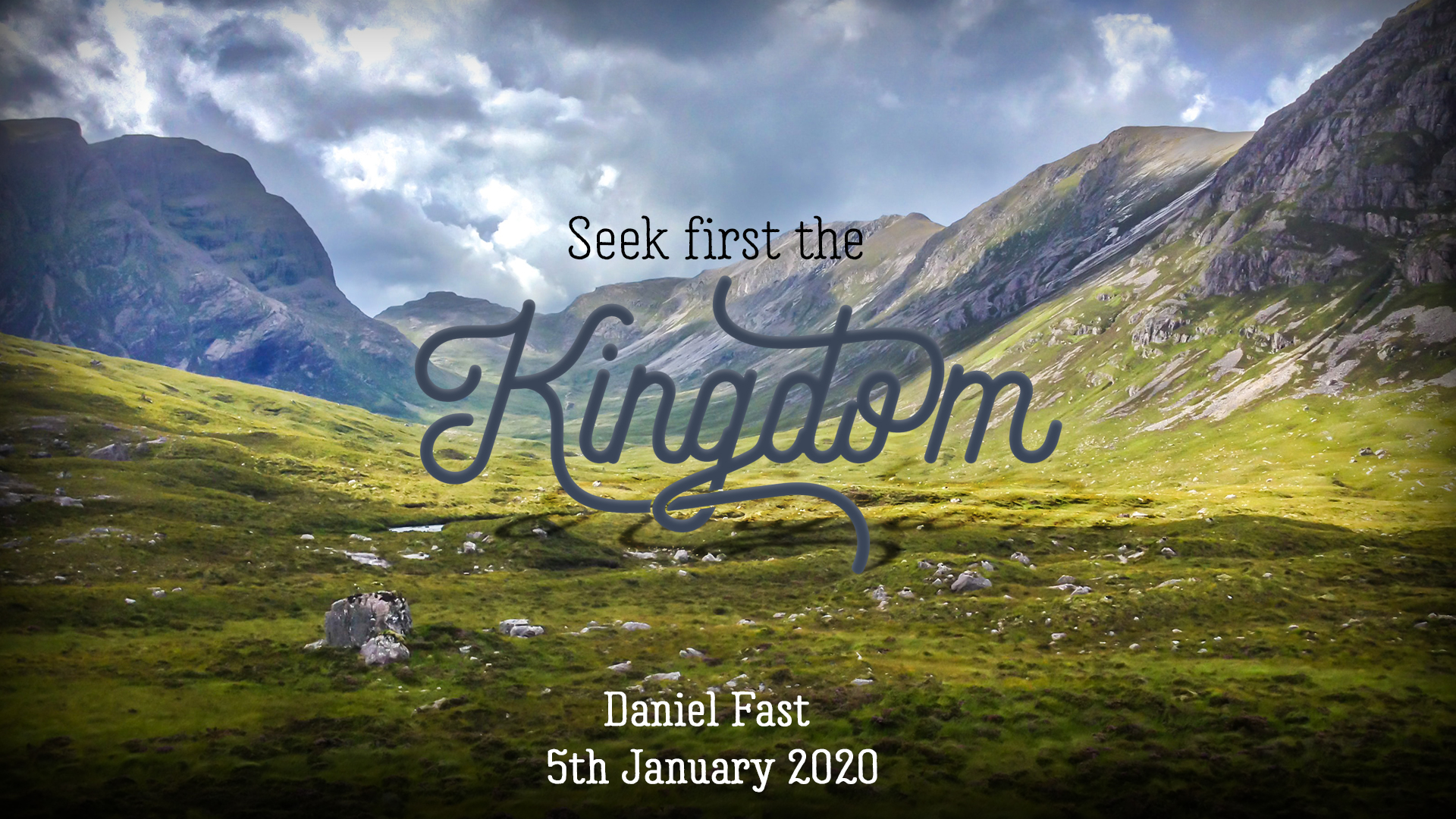 Last year over 100 of us from Burlington joined with many from ICC to fast, pray and worship through the first three weeks of the year. It was an amazing time with God coming close to so many, speaking clearly, healing, commissioning and encouraging.

We feel the Daniel Fast is a fantastic way to start the year and invite you to join us again or for the first time.

This year we are asking you to consider how to 'Fast' in a way that really helps you to turn down the distractions of life to tune into God's voice. We are asking you to think about…..

What do you need to give up to seek God through January?

What do you need to take up so you can tune into God's voice through January?

There are many ways to fast. We would like you to fast in the way that is appropriate for you. Perhaps you would like to join in the Daniel Fast as outlined below. However, it may be more useful for you to fast from your favourite past time, a habit such as computer games or TV or one element of your diet such as caffeine, sugar or alcohol. Decide what you are going to do, tell someone else to hold you accountable and shape the fast in a way that helps you to position yourself to hear from God and grow.

Stopping something is only half of what biblical fasting asks us to do. We need to 'take up' something so that we tune into God's voice. Some suggestions include:- Commit to reading the Bible and doing SOAP every day to allow God to speak through his word;- Meet with others at the touchpoints held over the fast. Could you commit to worship every Friday night for example?- Decide you are going to go for a walk with God every day. As you walk intentionally tune into God's voice;- Spend time listening to worship music and resting in his presence;- Times of stillness where you ask God into the space;- Attach a pause to everyday things. For example every time you walk into your home give thanks for it, or every time you have a drink, pause and thank God for his provision;- Read that Christian book that you have been meaning to and allow God to speak through it.


Each day there will be material that helps us read the Bible and catch God's voice. The Daily Material for the 2020 Daniel Fast is available in printed form from the church office or can be downloaded here.
We are thrilled to be joining Ipswich International Church in this fast again and will be joining with them in a number of ways to worship and pray over the time of the fast. Please pop these in your diary and commit to come. They have been hugely significant times in our Fast previously. Please click on the table below to load a larger version: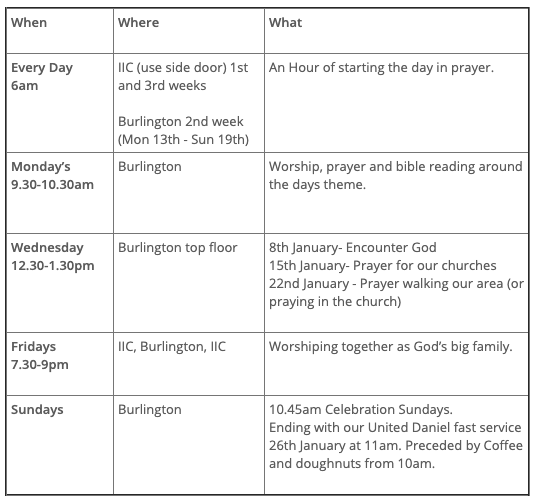 More information about the Daniel Fast Method
The Daniel Fast is a method of fasting used by hundreds of thousands of Christians throughout the world. The fast is based on the fasting experiences of the prophet Daniel along with standard Jewish fasting principles.

The Daniel Fast is a partial fast, meaning that some foods are eaten and others are restricted. Please only consider this style of fasting if you are medically well enough too or disordered eating is not an internal challenge for you.

An overview of the food and drinks to be removed as well as foods to eat can be found here and recipe suggestions here.

If you would like more information about the fast or to be included in the closed Facebook group, then please contact Claire on claire@burlington.church by 6th Jan 2020.

Recommended Reading

The Celebration of Discipline by Richard Foster
The Daniel Fast by Susan Gregory
The Life You've Always Wanted by John Ortberg

Helpful blogs

http://daniel-fast.com