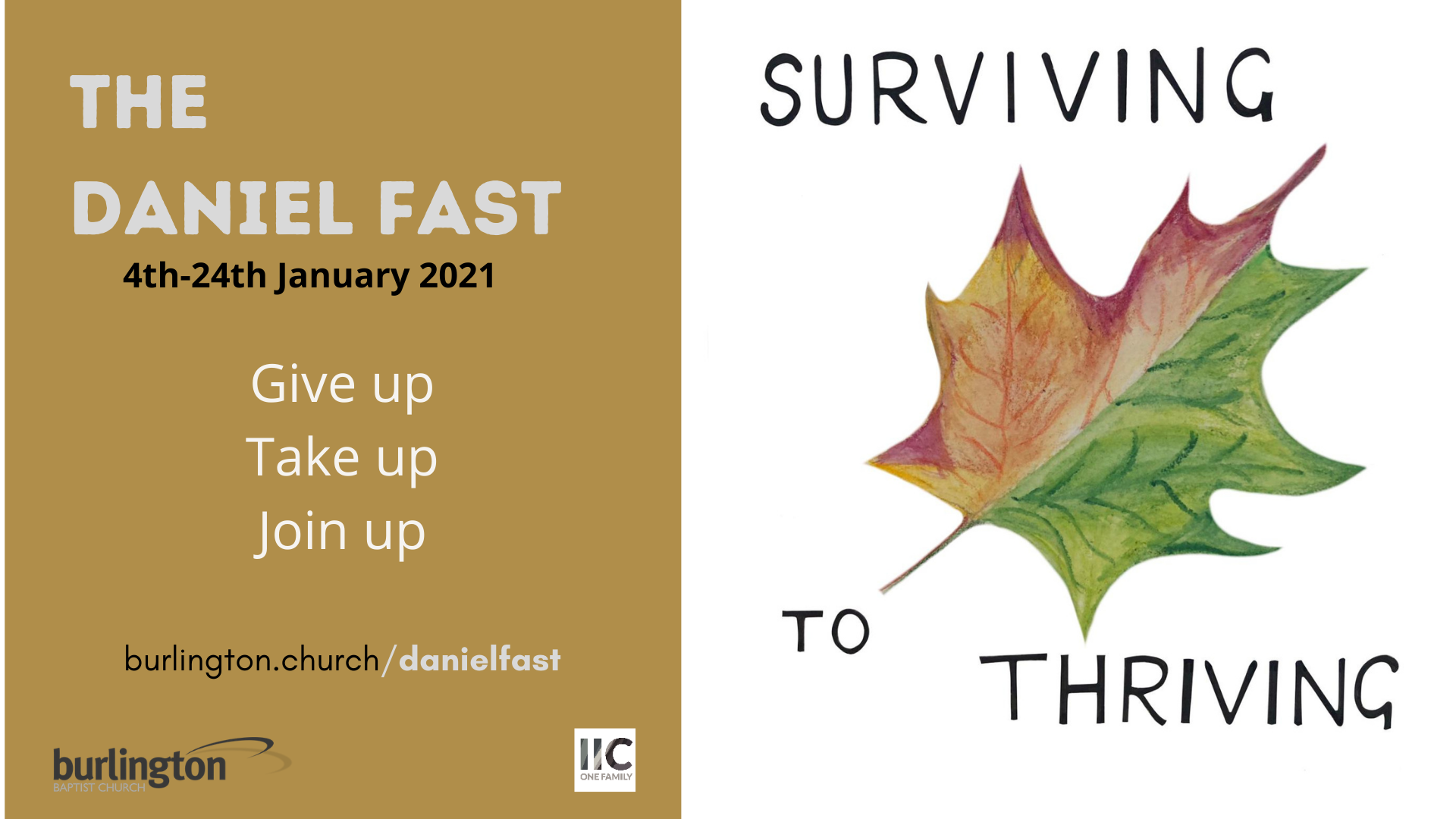 Quick Links
6am Prayer Meeting - Daily - Our early morning prayer meeting with IIC will continue everyday. Please click here for more details of how to join either via WebEx or by Telephone.
Daily Devotions - There are daily readings and prayers designed for your use throughout the day. Download these here
Daniel Fast 2021 Playlist - on Spotify and on Apple Music
Monday Morning Worship - 9:30am - 10:30am This will be on Zoom: Just click this link and follow the instructions.
Thursday Evening Worship and Listening - 7pm-8pm 7th January and 14th January only This will be on Zoom.
Fridays - Evenings of worship and prayer - https://iic.io/danielfast

Introducing Daniel Fast 2021
Surviving to thriving
We have been in a season that has been unexpected and difficult. In moments like this it can feel like all that life has been shaken. But despite all that has happened the truth is that God is still God and we can find peace in that.
This year during the Daniel fast we are examining what it looks like to move from surviving this season to thriving. Each day we will start with a morning thought from Galatians to start our day and then we will journey through Psalms to help us with our own journey and then look at how Daniel moved too thriving.
How to Fast:
This year we are asking you to consider how to 'Fast' in a way that really helps you to TURN DOWN the distractions of life to TUNE IN to God's voice. In these Covid times a change in your diet may not be advisable.

For this year's Daniel Fast we are asking you to think about…..

What you need to GIVE UP?
What you need to TAKE UP?
Where you need to JOIN UP?

GIVE UP

There are many ways to fast. We would like you to fast in the way that is appropriate for you. Perhaps you would like to join in the Daniel Fast as discussed here daniel-fast.com. An overview of the food and drinks that could be removed as well as foods to eat can be found here and recipe suggestions here.

However, it may be more useful/sensible for you to fast from your favourite past time, a habit such as computer games or TV or one element of your diet such as caffeine, sugar or alcohol. Decide what you are going to do, tell someone else to hold you accountable and shape the fast in a way that helps you to position yourself to hear from God and grow.

TAKE UP

Stopping something is only half of what biblical fasting is about. We need to 'take up' something so that we tune into God's voice.
Some suggestions include:
Commit to reading the Bible and doing SOAP every day to allow God to speak through His Word;
Commit to the journey with others. Could you commit to worship every Thursday night for example?
Decide you are going to go for a walk with God every day. As you walk intentionally tune into God's voice;
Spend time listening to worship music and resting in his presence;
Take times of stillness where you ask God into the space;-
Attach a pause to everyday things. For example every time you walk into your home give thanks for it, or every time you have a drink pause and thank God for his provision
Read that Christian book that you have been meaning to and allow God to speak through it.
JOIN UP
This year we would love you more than ever to commit to our community touch points.

Everyday - 6am prayer meeting - daily:
Mondays - Monday Morning worship 9.30-10.30am:
Thursdays - Evening worship and listening 7-8pm 7th & 14th January:
Fridays - Evenings of worship and prayer
Additionally can we encourage you to join up with others in a variety of ways. Here are some ideas:
Prayer triplets (or a few friends being accountable)- Could you ask 2/3 others to walk through the Daniel Fast together? Meeting for a walk weekly or doing a zoom call and encouraging each other through the fast?
How will your community do something together.? Could you meet weekly on zoom to talk about what God is doing? To do the bible study?
Stay in touch. The Burlington Facebook group really comes alive when we post verses, encouragements and stories of what God is doing amongst us. Even if you don't usually post I would love to encourage you to do so this year. It would be wonderful to hear what God is doing amongst us. We would also love to hear stories and encouragements that we can share on our Sunday stream. Please get in touch with Claire if you have something to share.
If you would more information or some support or help through this fast do get in touch with Claire at claire@burlington.church
Recommended Reading

The Celebration of Discipline by Richard Foster
The Daniel Fast by Susan Gregory
The Life You've Always Wanted by John Ortberg

Helpful blogs

daniel-fast.com