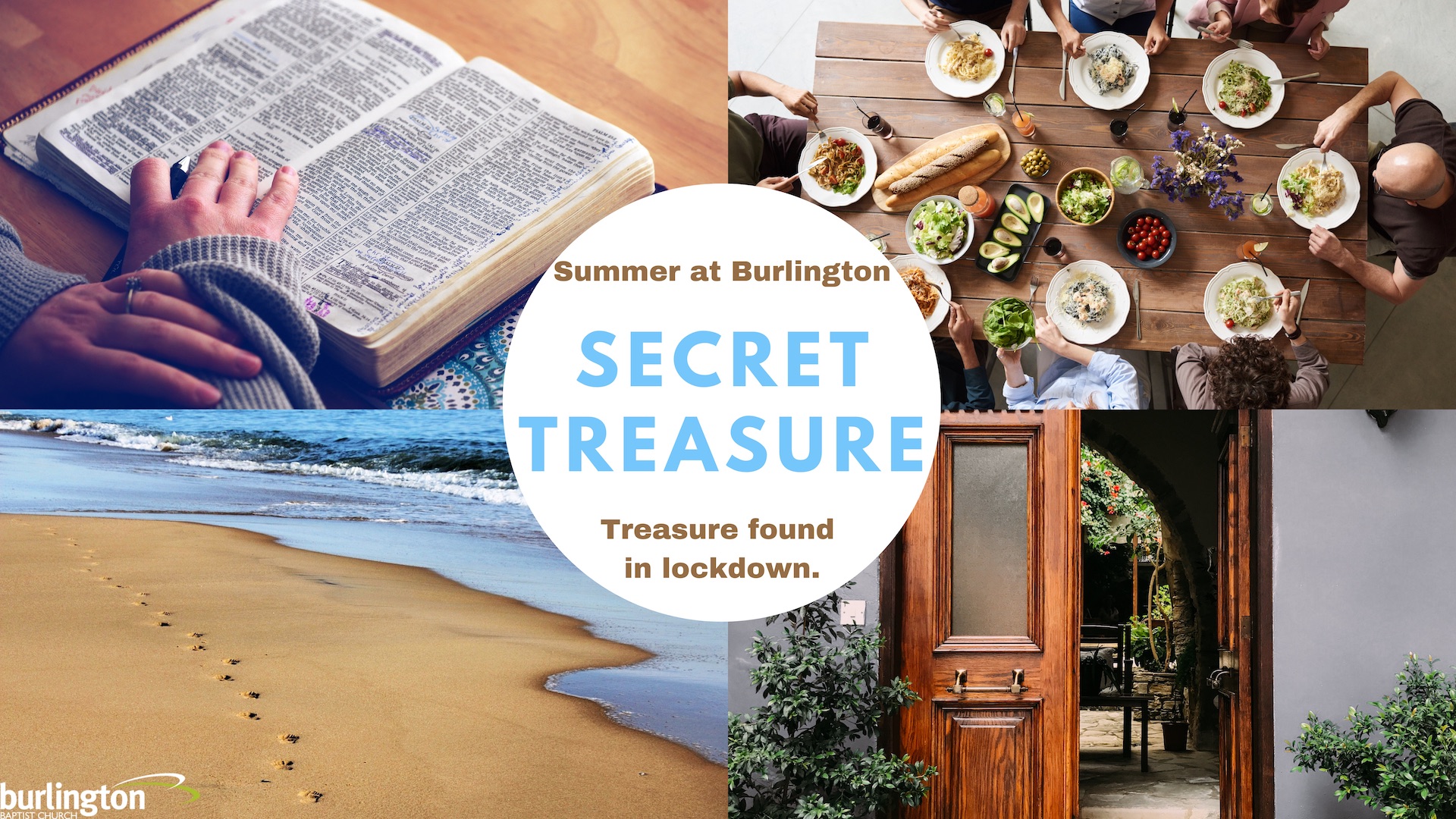 SUMMER 2020
I will give you hidden treasures,
riches stored in secret places,
so that you may know that I am the Lord,
the God of Israel, who summons you by name.
Isaiah 45:3

Over the Summer during our Sunday Celebrations we are going to be thinking about the treasures we have found through the recent challenging season of COVID-19. Despite it being one of the most challenging seasons many of us have faced, God has been very present and has given us treasures to find in secret places. We will be exploring subjects such as God being with us, slowing down and what our communities have been doing during lockdown.

Please Help Burlington Reconnect
Before we can all be together, please help Burlington to reconnect by reaching out to others. Why not invite people to join you to watch the summer Sunday broadcasts or to share in the weekly activities or simply to catch up at some point during the week. Remember you can have up to 6 outside and 2 households inside (current restrictions July 2020).
Sundays
Join us every Sunday on Facebook for our Celebration which will explore a different treasure each week. You can watch the live stream by using this link: https://burlington.church/facebooklive or via our Facebook page here: https://www.facebook.com/burlingtonips/
Our celebrations will continue to have worship, a talk and live interaction on our Facebook comments. All the celebrations have been pre-recorded though so that some of those who have been serving us so well with our media production can have a break. There will also be no kids church through the Summer period.



Missed a Sunday?
If you missed our Sunday online service, please head here: https://burlington.church/facebooklive where you can watch it again.

If you are aware of anyone that is unable to get online, please let them know that they can listen to our latest talk each week simply by dialling
01473 92 77 76 (Cost of a local call/included in your minutes)
NEW for the Summer
After each Sunday celebration you are invited to join others to explore this subject on Zoom. Join the conversation by going to this link: https://burlington.church/jointheconversation
As the restrictions are slowly lifting remember you could watch the live stream physically with another household inside or with up to 6 people from different households outside. Why not invite different people each week and have a celebration in your home.


Mondays

In place of our usual Monday Morning Worship, Simon Cockshutt will be leading a time of prayer each week starting at 9:30 am.
You can join it here: https://burlington.church/summermondayprayer
Weekly Activities

We have also prepared weekly activities. There is a weekly passage for you to SOAP on. (For more information on how to read the bible using the SOAP method head here: https://burlington.church/soap
There is also an activity that you could do individually or perhaps as a community group. There is also a weekly family activity. You can find each activity here (please click on the link to download it or click here to download all 6 activities in one document):
We would love to see what you get up to so do post pictures, comments, thoughts and prayers on our social media channels https://www.instagram.com/burlington_ips/ and https://www.facebook.com/burlingtonips/
If you would like to get in touch to share what you have been doing, to share a testimony or a photo then do email us at info@burlington.church

6am Prayer

We will continue to pray with Ipswich International Church over the Summer. To get on the call join via this link at 6am daily: https://iic.io/daily6am